In May, Rhododendrons rule! My shrubs performed this year with awe-inspiring, massive colorful displays of exquisite bloom. They surely are A-List garden-worthy. Photos below.
copyright – 2023 – Lois Sheinfeld
Years ago, J.C. Raulston, revered horticulturist/educator, suggested a way to choose plants with the "highest garden merit":
"I've decided," he said, "they need to be basically tough and not need pampering with relatively low maintenance (little or no special environments, modified soils, watering, pruning, spraying, etc.), have interest or appeal over a fair length of time, [and] that they have high ornamental value at least at some point (showy or interesting flowers, fruit, foliage, texture, etc.)"
Please consider the following easy-care deciduous shrub — time-tested in my organic garden — which clearly passes the Raulston test:
Abelia mosanensis Z 5-9 (Hardy Abelia, Fragrant Abelia)
As they say in the movie business, this shrub has "legs." First, in early Spring, it is blanketed by clusters of pink buds emerging from green calyxes. Then, in mid-May, the buds open to deliciously fragrant white flowers. Finally, when the flowers fade, the calyxes take center stage and this non-stop performer appears to be covered in lovely green flowers until frost. My plant has been disease-free and pest-free and flourishes in moist, acid, well-drained, organically rich soil. Photos below.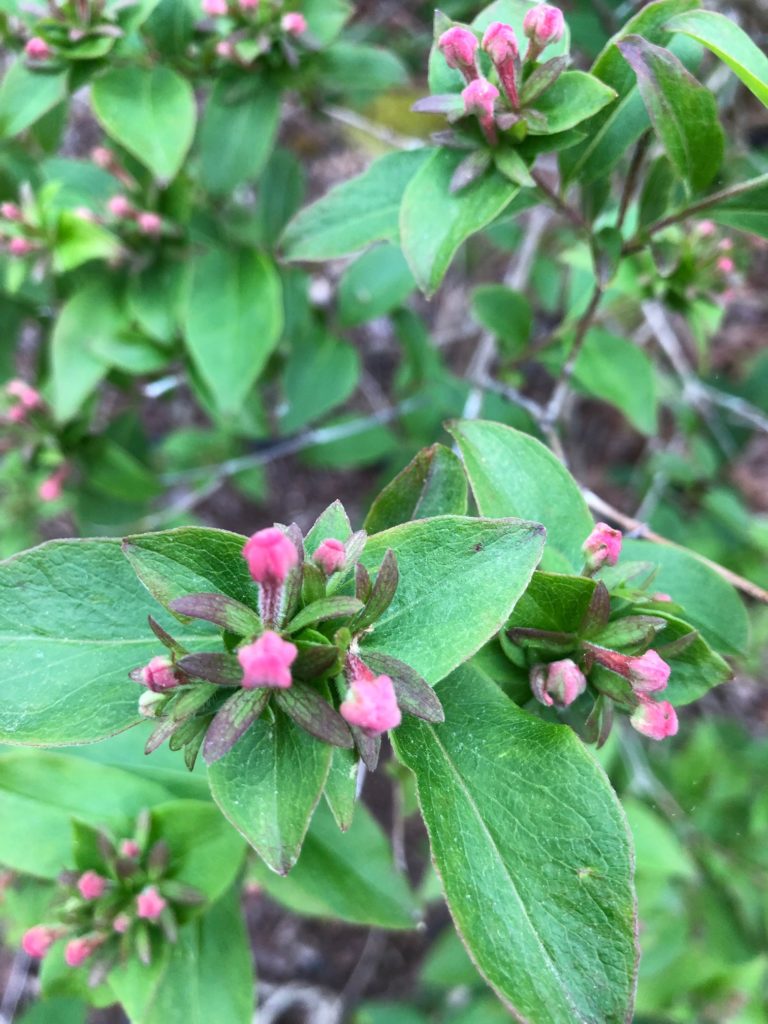 I recently purchased three amazing pollinator-favorites that are also, in my opinion, "highest garden merit" plants :
Buddleia x 'Miss Ruby' Z 5-9 (Butterfly Bush)
The English Royal Horticultural Society's Popularity Poll ranked Miss Ruby number 1 out of 97 other Buddleia cultivars. No surprise. Its fragrant, vibrant red flowers bloom continuously from summer to frost and the plant is deer-resistant and rabbit-resistant. Moreover, Miss Ruby is beloved by butterflies and hummingbirds.
This beauty is not particular about soil pH but prefers well-drained soil in sun. (Note: Gardeners have reported that it flowers well in high shade and part shade.) Miss Ruby can be hard pruned in Spring because it flowers on new growth — even if it dies to the ground in winter.
Salvia nemorosa' Pink Profusion' Z 3-8
This re-blooming easy-care charmer has been chosen 2024 Proven Winners National Perennial of the Year. The plant is resistant to deer and rabbits and its fragrant, showy pink flowers attract butterflies, bees and hummingbirds. For re-bloom, prune after flowering. It is not particular about pH but requires well-drained soil.
Torenia 'Purple Moon' (Wishbone Flower)
It was love at first sight—I grabbed three Purple Moons as soon as we were introduced.  But this annual is more than just a pretty face. The gorgeous, velvety flowers are produced in abundance from Spring to frost and attract bees and hummingbirds. Purple Moon is an ideal container spiller in shade or part shade.
I purchased the pollinator plants from Eastland Farms. Eastland has an extraordinary selection of plants and outstanding customer service. (Thank you, Courtney!)
Eastland Farms, 1260 Montauk Highway, Watermill, NY; P. 631-726-1961; eastlandfarms@aol.com.