Isn't nature amazing? In Australia, a nightshade plant (Solanum plastisexum) has confounded scientists: Every time they studied the plant, the sex of its purple flowers had changed. Sometimes the flowers were female, sometimes male, and sometimes a mix of both. As one scientist observed about the unpredictable sexual expression of this very unique plant, "no one has been able to understand what exactly it's doing, and how it's doing it, and why it's doing it." (Hmm, could it just be showing off?)
No problem predicting what human manipulators of nature — a/k/a plant hybridizers — intend. They know exactly what they are doing. They are producing beautiful, seductive plants that weak-willed plant freaks, like me, will find absolutely impossible to resist.
One day between errands I had some free time and aimlessly wandered about the aisles of a local garden center — just looking mind you — when I saw Lupinus 'Westcountry Manhattan Lights'. One look and I was besotted.  Photo below of this bi-colored beauty — in my garden.
I've never before been tempted by Lupines. Granted, they are deer-resistant and attract pollinators and hummingbirds — but the plants hate humid, hot weather. We have humid, hot weather a-plenty. Ergo, no Lupines! Until now.
Lupines appreciate well-drained acid, moist, organically rich soil in sun or part shade. The flowers open bottom to top and it is generally recommended that spent flower stems be removed if you want a second round of bloom. I removed all but one because I wanted to see the seed pods. Glad I did. Photo below.
My plant did not send up new flower stems. Was it because I left one dead stem standing? Maybe not. In her popular, informative book, We Made a Garden, British garden writer Margery Fish advised that the entire plant had to be cut to the ground, foliage included, or "there will be no second blooming." I'm inclined to agree with her. Fish was an experienced hands-on gardener who wrote about plants she grew. (And, despite its name, L. 'Westcountry Manhattan Lights' was hybridized in England.)
I'll be glad if the plant survives. Lupines like cold weather — they survive and thrive in northern New Hampshire (Zone 4). When my husband and I visited NH in June, we were thrilled to see fields of wild Lupine backed by the White Mountains.  Moreover, Mother Nature matched the bi-color beauty of Manhattan Lights when she partnered wild buttercups with the lupines. Photos below.
Here are a few more highlights of our NH trip:
In the town of Bethlehem, we enjoyed a horse-drawn wagon tour of The Rocks Estate — a vast private property that is now a Christmas tree farm managed by the non-profit Society for the Protection of New Hampshire Forests. The first photo below is a view of the property and the second is of the handsome Belgian horses, Bert & Boomer, and the horses' owner and driver Bruce Streeter.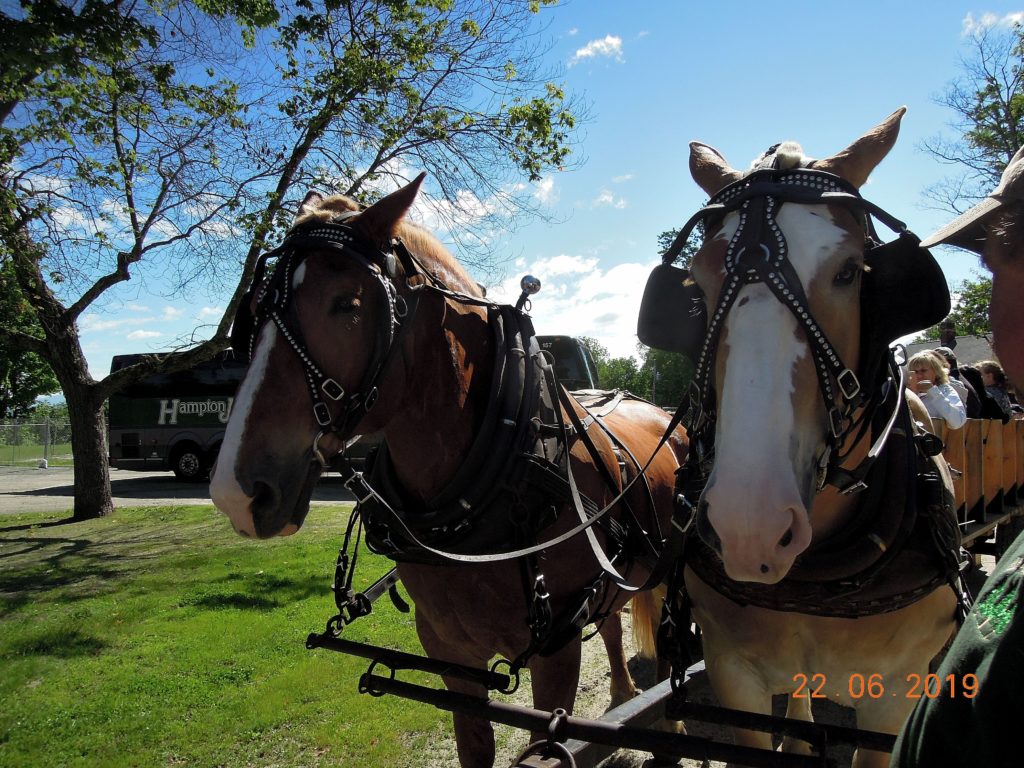 On the charming main street in Bethlehem we found out-of-print treasures in the vintage bookstore Beannacht, and we enjoyed a yummy outdoor lunch at the bistro a few doors down.
We were dazzled by the range and quality of the work of local artists displayed for sale at the League of N.H. Craftsmen Fine Craft Gallery located on main street in the town of Littleton. And it was here that we met Mortimer Moose — who followed us home. Photo below.
I could go on and on. New Hampshire is a place of exceptional natural beauty, artistic endeavor and hospitality. Best times to visit are Summer and Fall.
As Autumn fast approaches, I'd like to look back and share some of my favorite Summer performers:
Geranium macrorrhizum
This easy-care, evergreen ground cover's foliage looks this way (photo above) for the entire Summer, even in dry shade. And it has been reliably perennial, despite heat, humidity, and topsy-turvy dramatic shifts in temperature. The showy magenta flowers in May are a bonus.
Kalmia latifolia 'Carol' (Mountain Laurel)
For flower-power in early Summer you can't do better than the native evergreen shrub Mountain Laurel . It is winter-hardy to zone 6, has excellent deer-resistance and blooms well in shade. Unfortunately, too often the foliage looks as though it's infected with spotted plague. But the cultivar Carol is the exception. Her dark green foliage is largely disease free. And the sharp color difference between bud and flower creates a very showy bi-color display. To ensure flowering every year, as soon as the flowers fade, remove the seed heads.
[Cautionary note: If Carol is planted too close to a spotted offender, she may succumb as well. And if the deer are starving, they may eat toxic Mountain Laurel foliage even though it will make them sick.]
Heliotropium arborescens (Heliotrope White)
For many years I would always fill a container with the vanilla-scented annual Heliotrope White. Yet, I have not planted any for decades. Why? Don't know. These things just happen. Then this Spring, when I saw the plant at my local garden club's May sale it brought back fond memories and I grabbed a few pots. They bloomed all Summer — and haven't stopped yet. And the delicious vanilla scent is intoxicating. The bees think so too. Thank you Bettina and Marie.
Rhododendron prunifolium (Plumleaf Azalea)
This large, deciduous, native Azalea is a hardy, late-summer star, reliably producing significant numbers of lovely orange flowers every year.  Nothing short of a show-stopper. In my organic garden the shrub has been disease free, and after more than two decades is about 13 feet tall. Blooms well in shade.
[Note: Hard to believe that Scott Aker is still recommending glyphosate to home gardeners. (The American Gardener, July/August 2019, pp. 40-41). Consider my post of January 18, 2018, "Jan/Feb 2018: Toxic Chemical Alert", and the recent multi-million dollar court judgment against Monsanto and its cancer-linked glyphosate herbicide Roundup. When will Scott Aker stop playing Russian roulette with American lives?]