Dark chocolate is good for your health said the scientists. It was music to my chocoholic ears, though I feared it was too good to be true. And, sadly, dark chocolate has been found to contain the toxic heavy metals lead and cadmium, which can damage — inter alia — the kidneys, lungs, and nervous system. Not so good for your health.
Solution? Dump the chocolate and continue to reap the indisputable, positive health benefits of gardening and communing with nature. In furtherance of that goal, consider enriching your gardens with these  wonderful plants:
Illicium floridanum x 'Scorpio' and Illicium floridanum x 'Orion' Z 6-9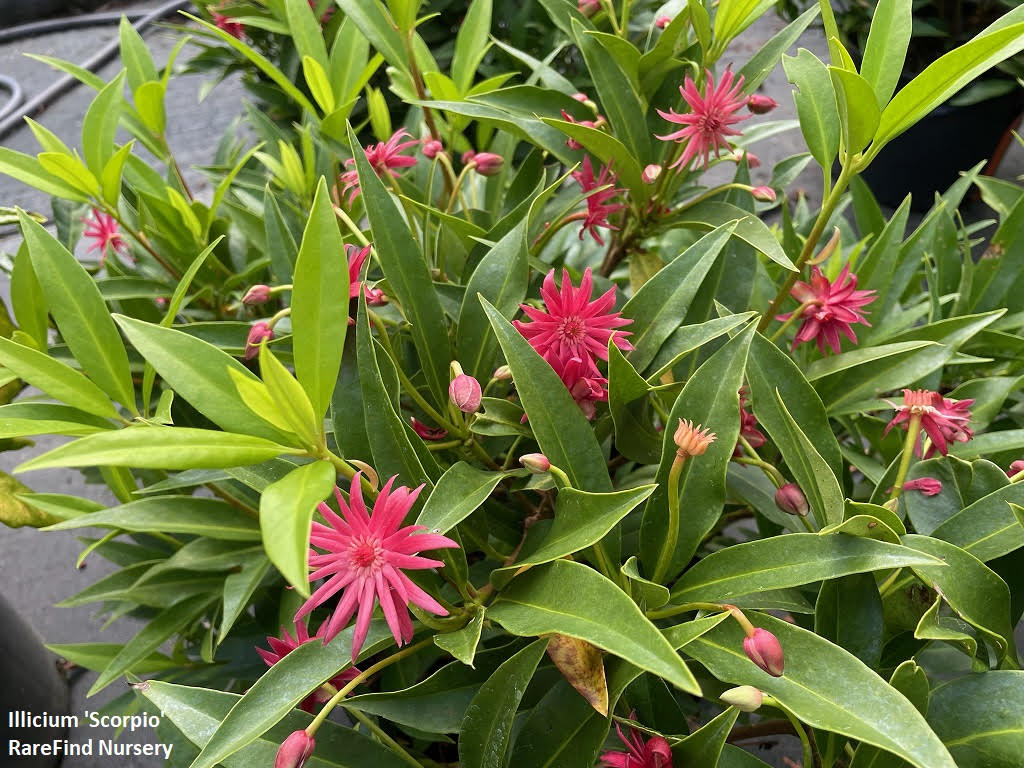 Scorpio and Orion are Illicium hybrids (I. floridanum x I. mexicanum) introduced by Dr. Thomas Ranney. Dr. Ranney is the JC Raulston Distinguished Professor of Horticultural Science, North Carolina State University and is known affectionately as "the mad scientist of plant breeding at NCSU." We all benefit from his madness: For the home gardener, the two hybrids are far superior — in both form and flower — to our native Illicium floridanum, one of their parents.
Both shrubs are compact — approximately 3 feet tall and 5 feet wide — with dense, glossy, evergreen foliage scented like licorice candy. They are deer-resistant. (The plants are so poisonous they are probably deer-proof: we avoid dark chocolate, the deer avoid Illicium.) In Spring, Scorpio and Orion produce abundant, beautiful spidery flowers — red (Scorpio) and white (Orion). Sporadic re-bloom has been reported. Provide moist, well-drained, organically-rich soil in shade.
RareFind Nursery has 3 gallon Scorpio and Orion plants available by mail order and nursery pickup: www.rarefindnursery.com.  Camellia Forest Nursery has 3 quart Scorpio and Orion plants available by mail order and 5 gallon Orion plants available for nursery pickup: www.camforest.com.
Spring is just a shiver away!