I recently read the book Life Happens, a compilation of smart, delightful newspaper columns by Pulitzer Prize winning columnist Connie Schultz. In one insightful column, Schultz recalled the time a friend's teenage son had to pick a language in college:
"He grew up in Miami, so naturally she thought he'd pick the language he'd been hearing, reading, and speaking since he was a toddler.
Spanish, she thought. He'll take Spanish.
Silly Mom.
He took Italian. 'The line was shorter', he said"
Teenagers are unpredictable.
They share this trait with Mother Nature who has moved to Crazyville.  And now, in addition to the horrors of climate change, we have to contend with the deadly Coronavirus. Clearly, there is every reason to retreat to the comfort of the garden and celebrate the awakening beauty and magic of Spring:
Rhododendron mucronulatum 'Mahogany Red'
This upright, willowy, deciduous Rhododendron is one tough plant. Although we had a relatively mild winter this year, my Mahogany Red has been a hardy, reliable Spring bloomer after severe, frigid weather as well. The magenta flowers provide a bright, joyful glow in the March garden. In the Fall, the attractive, small green leaves turn lovely autumnal colors. Provide adequate water and well-drained acid soil.
Lonicera x purpusii 'Winter Beauty'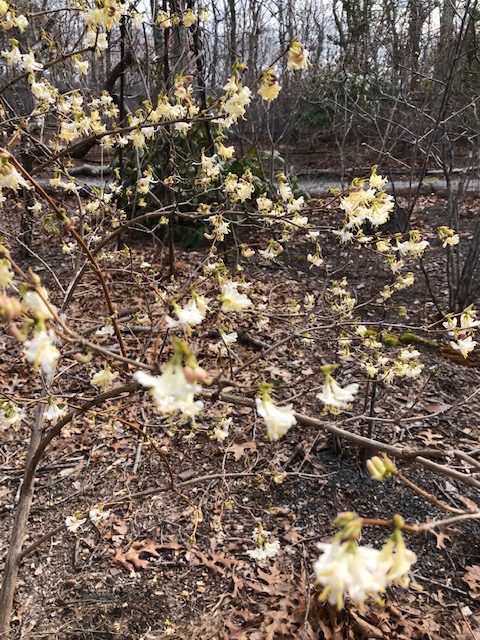 copyright 2020 – Lois Sheinfeld
The fragrance of the abundant, small, creamy-white flowers of this twiggy, deciduous honeysuckle carries on the air and fills the garden with heavenly scent. It too is a hardy, reliable bloomer, and isn't particular about soil pH. Winter Beauty does require regular moisture and well-drained soil in sun or part-shade. No Fall color to speak of, but, oh, that perfume in early Spring is enough for me!
I've had a number of herbal surprises. My rosemary over-winters outside in a container. It is usually brown and dead about now and needs replacing. But not this year. Photos below of downtrodden rosemary under a pile of snow in December, and the very same rosemary now — upright once again, green, and full of life.
And the chives in the outdoor herb container made a surprising early comeback in March, along with the oregano. Photos below.
It's surely going to be an interesting year in the garden.
I highly recommend Connie Schultz's book Life Happens. (Did I mention that it has two of her columns on gardening?) I also liked and recommend her book . . . and His Lovely Wife, Schultz's insider's take on the political campaign of her husband, Senator Sherrod Brown. Perfect reading in this election year.
Finally, in closing, my favorite true story about teenagers:
Mother to teenage daughter: "Your behavior is outrageous. Can't you act like a normal person?"
Daughter: "I'm not a normal person. I'm a teenager."
Mother: "Don't threaten me!"
Happy Spring!