Insects Rule!
A recent scientific study revealed that when insects chew on organic fruits and vegetables the plants respond by significantly increasing antioxidant compounds. If insect feeding triggers a plant's defenses, ultimately resulting in more nutritious, healthier produce, must we now seek out insect-damaged food?
An interesting conundrum.
Not, however, my focus here. With the deadly Coronavirus currently shadowing our lives, I want to celebrate and share with you plants that nurture the soul: Spring-blooming, beautiful, fragrant, disease/pest-resistant woody ornamentals:
Pieris x 'Spring Snow' Z 5-7
P. x 'Spring Snow' is an evergreen, compact, early-Spring-blooming cross between P. japonica and the U.S. native P. floribunda. From showy pink buds the shrub produces luminous, snowy-white upright flowers that release their fragrance on the air, attracting bumble bees, butterflies and this gardener. After more than twenty-five years my shrub is now only about three feet tall, ideal for both small and large gardens. It has been a healthy, reliable bloomer despite frigid winters and hot, humid summers. Foliage new growth is bronzy-red before turning dark green and is toxic to deer, so they leave it alone. Pieris x 'Spring Snow' is insect-resistant as well. (Grow in shade and you won't be troubled with lace-bug. In my shady organic garden all the Pieris have been deer-proof and insect-free.)
Provide organic-rich, well-drained, acid soil and regular water.
Skimmia japonica Z (6)7-8(9)
Skimmia is as close to perfect as a plant can be. The shrub's magnolia-like, thick-textured, dark green leaves are evergreen, and if rubbed or bruised emit a strong herbal scent that effectively repels deer. In early Spring, Skimmia produces masses of fragrant flowers–even as a young plant. It has flourished and bloomed for me every Spring for more than thirty years, filling the garden with delicious perfume. In late summer/fall the female plants produce decorative clusters of fat red berries. (Skimmia japonica is dioecious and requires both male and female plants for fruit.)
The shrub does well here in zone 7, despite periods of horrific weather. Zone 6 may be iffy, but with global warming — and a little protection — surely worth a try. Essential requirements include moist, acid, well-drained soil, and, most important, SHADE.
Magnolia 'Pegasus' Z 5-8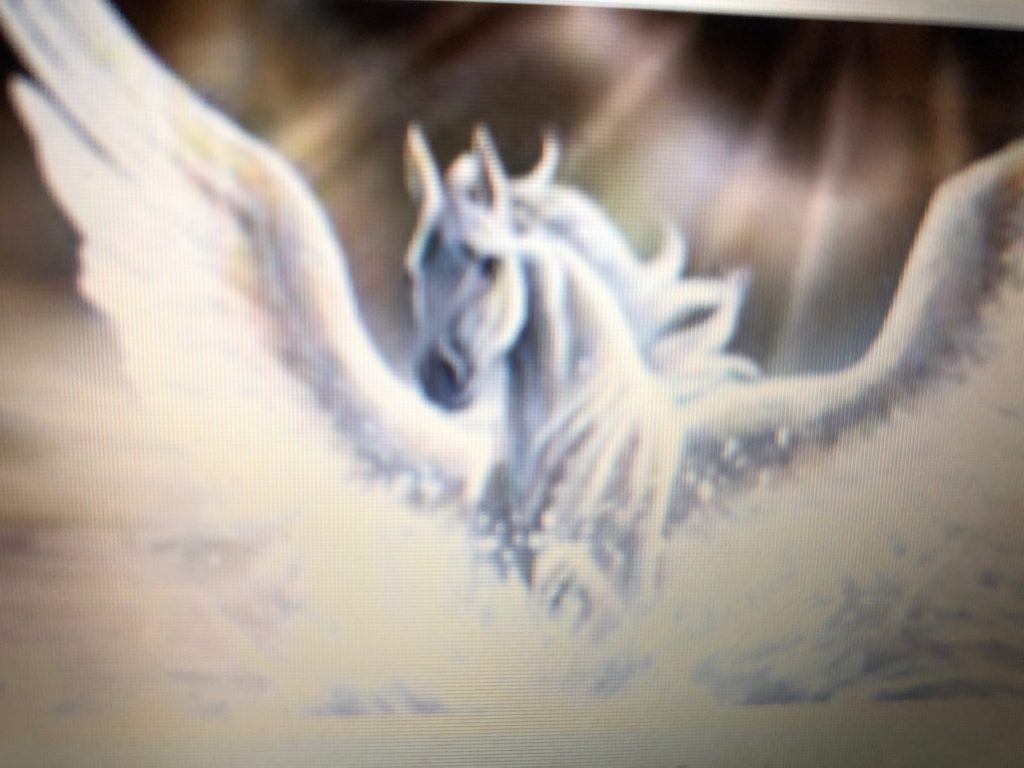 This lovely Magnolia was named after the Greek mythological winged horse Pegasus, which, according to legend, sprung out of the gruesome monster Medusa's neck when Medusa was killed. (Pretty imaginative, those Greeks.) I've included photos of the Horse and the Magnolia so you can judge for yourself whether the name fits. To my mind it's more of a match when the flower opens wide. Earlier, the flower looks more like a tall tulip.
Magnolia 'Pegasus' has an interesting history. In 1936 Mrs. J. Norman Henry of Gladwyne, Pennsylvania, received seed of Magnolia cylindrica from the Lu Shan Botanic Garden in China. She planted the seed and when it germinated, scions were widely distributed. M. Pegasus can be traced back to that original seed. (Note: It is now suggested that there was a bit of Magnolia hanky-panky in Lu Shan; the Henry seed may have resulted from a natural marriage (tryst?) between M. cylindrica and M. denudata. Didn't think Magnolias could be naughty, did ya?)
M.'Pegasus' is a very winter-hardy, healthy, deciduous tree. It has been a reliable April bloomer, and the flowers have a pleasing soft fragrance. The literature speaks of attractive, bright red cylindrical fruiting cones but I've never seen one. (Maybe this year?)  After decades in the garden, my tree is about 10 feet high. Provide moist, rich, well-drained acid soil and sun or dappled shade.
Be well. Stay safe.